Welcome to "ITMED" Forum
NANOSMAT has officially taken under its wings the "International Forum on Innovative Technologies for Medicine (ITMED)"– an event which has been very successfully organised, each year, since 2007 in Poland. The founders of ITMED include Professors Waclaw Białkowski, Stanislaw Mitura and Jan Smidt. ITMED predominantly attracts participants from mainly Polish and eastern European universities, research institutions, companies, medical sectors, business environment institutions, government and economic agencies.
From 2018 onwards, ITMED will be organised in conjunction with our on-going NANOMED conference (International Conference on Nanotechnology in Medicine), www.nanomed.uk.com, which has been organised since 2012.
Professor Stanislaw Mitura from Koszalin University of Technology in Poland, who is a Fellow of The NANOSMAT Society, was visiting the NANOSMAT head office in Manchester, UK on 6 March 2017. Professor Mitura will continue to chair the future ITMED meetings organised by NANOSMAT.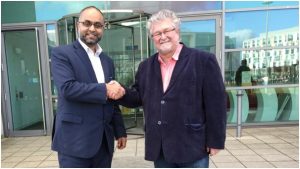 Dr Nasar Ali, President of "The NANOSMAT Society", welcoming Professor Stanislaw Mitura at the NANOSMAT office in Manchester (UK).